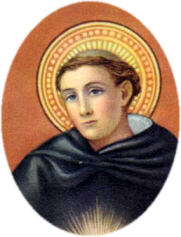 The Feast of Nicholas of Tolentino is on the tenth of September. There is a devotion to this holy saint as a patron of the Holy Souls in purgatory. During his life St Nicholas had visions of the suffering souls, and since then his prayers were asked to ease their purification.
There is a devotion to him called the Septenarium, seven days of prayer for the Holy Souls before his feast. As with the novena to the Holy Ghost at Pentecost, it ends on the feast day iself.
The Septenarium begins TOMORROW, and continues until the tenth.
Here is a prayer to be recited daily for the intentions of a holy soul.
O Lord, God of holiness and light
You do not allow any shadow of darkness or evil
in Your sight and so in Your mercy
You grant to those who have left this world
burdened with sin, a time of purification,
applying to them the spiritual treasures of your Holy Church.
Hear my prayer
and through the merits of Christ,
the Blessed Virgin Mary, the saints
and all Your faithful people
bring to an end this time of waiting
for our beloved dead, especially for N. (insert the name here).
In Your providence
You have chosen Saint Nicholas
as a special intercessor on behalf of the departed;
hear also his prayer for those
whom I recommend to You
through his intercession.
Through the same Christ our Lord. Amen.


(Correction: the Pentecost novena like the Septenarium ends on the day before the feast. I hope St Nicholas won't mind my mistake too much. Next year I'll put all the perayers up.)