£2 coin issued in 2013
As a Chaplain Abroad, the arguments went back and forth. The French boys claimed that England was French (because of William the Conqueror), and of course we pointed out that most of what was to become France came to us through Eleanor of Aquitaine. And moreover that the Royal House had still a claim on the French throne - King George III had stopped mentioning the claim to the throne only at the beginning of his reign in the first years of the 19th century.
Arms of King George III - without Fleurs de Lys
Visually you see this as his arms no longer bear the fleurs de lys of the royal arms of France.
Note then my shock and delight to see that royal coats of arms still bearing the claim of the French throne have appeared on British coinage! The £2 coin issued in 2013 (I've just seen one for the first time) has the arms commemorating the 350th anniversary of the Guinea. It contains the French symbol of Royalty.
Top right - France is ours
Is this renewed claim to be made public? How marvellous to have a restored French monarchy! And how wonderful that it should be Her Britannic Majesty, Queen Elizabeth II.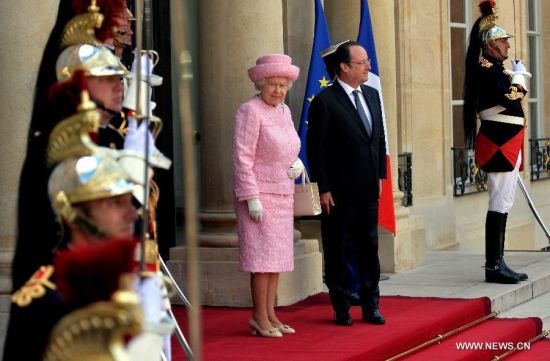 Her Majesty with her new prime minister of oversees territories
inspecting her new palace, the Elysee